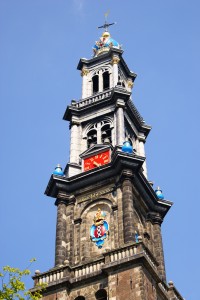 He rang the bell of course. As soon as he saw her step out on to the street. Hearing it, she did what they all do. Stopped dead in her tracks, shocked that a bike was approaching her. No-one remembers Amsterdam is a city of bikes. No-one looks. No-one listens. They just step out.
Tourists.
He shouted out "Let op!"
But she didn't understand. Dutch is a useless language in an emergency and he had no time to correct it.
"Watch out!"
That was what he meant to say. Too late.
He swerved to avoid her as she stood motionless on the street, his front tyre hitting the kerb and launching him over the handlebars.
Looking up, there was blurred movement all around him. Voices, but no language he could understand. He closed his eyes and tried to listen for words he knew, but there were none.
When he opened his eyes again, the glare of the sun made him wince, the sound of it causing a flurry of panic all around him.
The Westertoren rose high above, sooty and black, the Keizerskroon, yellow and bright as a daffodil.
He stared at the yellow. Uttered the word a few times.
"Geel. Ze hebben hem weer geel geschilderd."
"What did he say?"
He stared at the yellow crown, it's burnished gold, so vivid and dizzying.
He had always loved that colour. When they had restored it, they had repainted it blue and he had cycled passed it with a heavy heart.
"They may as well steal the sun from the sky" is what he thought.
And now, there it was again, as yellow as he remembered.
Someone was touching his face.
"Piet. Pietje. Gaat het jongen?" A voice he had not heard in a long time.
And then slowly the music came. A joyous sound. High in the tower the bells rang out. Louder and louder.
Thursday. It must be Thursday. They only ring the bells on Thursday.
He could hear laughter. "Yellow Submarine! Listen!" More laughter.
He strained to listen to the bells. The Beatles. It was true.
A faint smile passed his lips.
His father had thundered when permission was first given for this. "Popular music doesn't belong in a church."
It had scandalised him.
And now, that voice again.
"Pietje, Pietje jongen, kom maar met me mee."
He opened his eyes. A form, black and silhouetted against the sun leaned towards him, arm outstretched. He felt himself rise as the church bells chimed.
When he looked down, the crown was blue.