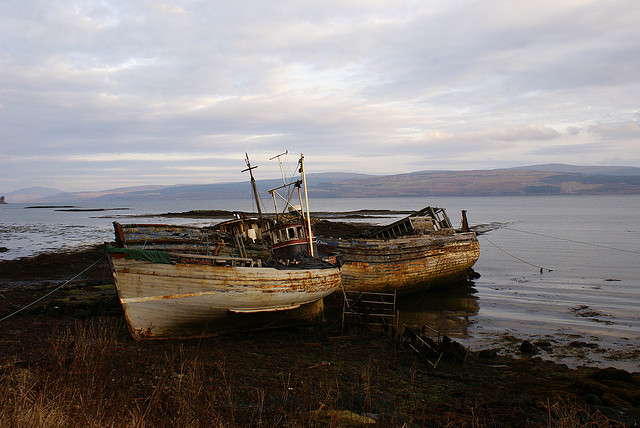 Many years ago, I had the pleasure of meeting David McTaggart, founder of Greenpeace.
David was a charismatic and charming man and his company was easy and friendly and very entertaining.
Our conversation that day, however, did not, as you may imagine, hang on the perilous state of planet earth.
Rather, David was more intrigued as to my Scottish background, given that his family hailed from the Isle of Mull.
"Have you been to Mull?" was one of the first questions he posed me, upon hearing my accent.
"No, I'm afraid I haven't."
He did not attempt to conceal his disappointment.
"Really? You've never been to Mull?"
David had piercing pale blue eyes, and he fixed me with them as he stared at me in disbelief.
That a Scot should not have visited Mull was clearly some sort of transgression.
In an attempt to make amends I explained that I had visited the Isle of Skye, the Isle of Arran, the Isle of Bute, and that Mull would no doubt be on my list of destinations at some point in the future.
"Mull is he most beautiful of the islands. You have to go."
I just nodded and recalled the Christmas morning I had spent out at Neist Point on the Isle of Skye. Standing under the soaring cliffs, the cold back sea as calm and clear as a mirror, we had watched a seal bob around in the water, teasing a lone fisherman who was pulling out pollock from the blackness.
It was moving closer and closer, but not quite daring to sneak right in and steal the catch. We had watched this little drama unfold for an hour or two, immune to the cold and the fading light. Mesmerised by our surroundings. Embraced by the tranquility.
Nothing could be more beautiful than that. Not even Mull, was what I thought. But I kept it to myself.
A few years later however, I found myself, at long last, on the Isle of Mull, celebrating Christmas and New Year.
With the short days, and the grey weather, it is not, perhaps, the best time of year to visit a place like Mull. But despite this, the charm of the island was immediately alluring. The colourful little bay in Tobermory cannot fail to delight any visitor. The clear turquoise sea water and white beaches are always a surprise for many people, the colours seeming to belong more to a tropical island than a cold northern isle. Dip a toe in that water though, and you soon realise how deceptive those Caribbean colours are. And, of course, there is plenty of whiskey to warm you after a day walking in the hills.
It was on this visit that I first passed through the tiny village of Salen. Not much more than a row of houses with a few shops. At the end of the street two old and battered fishing boats had been pulled ashore, long ago, and they lay there, weather beaten and tired, their sailing days long behind them.
Something about the way they lay, slightly askance, the paint faded and peeling, the wood beginning to rot, was very appealing. Enough to make you stop and walk over to them and to look out over the bay.
One of those moments when the world stops, very briefly, and a calm descends, that you find yourself seeking out again and again, once the moment has passed.
I stood there in silence and then recalled that conversation from a few years earlier with McTaggart.
And I had to smile as I found myself whispering a little acknowledgement to him.
He had died some years before, but I like to think he heard me.
"You're right there, David. It is indeed a very beautiful Isle."