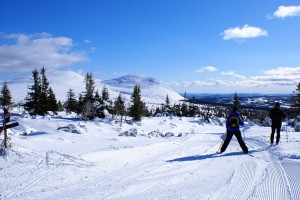 I must admit to being slightly apprehensive at the start of this trip.
In the past, our cross country ski treks have involved long, exhausting days exploring the beautiful, expansive wilds around Geilo and Finse.
Trysil, however, is far from wild. On the contrary, this is a developed ski centre with a large alpine area and a vast support network of shops, restaurants and accommodation. With a baby daughter in tow however, it was clear that the back country of Norway was never going to be a possibility. So, Trysil it is.
I'm worried though that the sheer popularity of the place is going to get on my nerves. Crowds have never been my thing, and when I head to the hills this need for solitude increases. I like my mountains empty and quiet. So the prospect of downhill speed freaks and snowboarding adrenalin junkies fills me with gloom.
I needn't have worried.
This is Norway after all, a country that appreciates the value of silence and solitude.
From the valley below, the soft unassuming rise of Hoyfjell, Trysil's main summit, looks tranquil and calm.
I say summit, but it's more of a gentle undulation really. A slight rise and fall on the horizon, nothing more.
You'd be mistaken though, to take it's gentle slopes at face value, for at the tail-end of a Norwegian winter, even this peaceful little hill can deceive the unwary traveller.
A glowing yellow morning ,with immaculate blue skies, can be transformed, within a matter of minutes, into a monochrome landscape of cold, steely grey.
The crisp, creaking, crunch of ice and snow compacting underfoot can quickly be consumed by the wailing, banshee howl of a sudden and relentless wind.
Horizons and signposts can disappear in a flurry of snow and ice, making those snug valleys below seem impossibly distant.
It's part of the appeal, of course, this unpredictability. Anyone who straps a pair of cross country skis to their feet and sets off across a Norwegian fjell in winter, can only relish the elements, the exposure.
And the solitude.
Hoyfjell may be far from remote – the dense, well equipped holiday valleys of Trysil are never more than a few hours away at most – but the harshness of the elements ensures few people venture out across it's back slopes. Head out on a blustery, snowy day and it's still possible to encounter few, if any, people.
Perfect.
Up on the fjell, you can lose yourself in the muffled, hollow sound of snow. Examine the hollowed twists and turns of the cracks and crevices carved out by the wind on the mountainside. Turn your face into the wind and push onwards, against the rush of cold, biting air.
Or simply stand still and breathe, watching as the exhaled air transforms itself into little puffs of warmth that vanish even before you can pull the next lungful of air into your lungs.
This, for me, is the true appeal of cross country skiing. The ability to feel like you have discovered a little piece of the world that is far, far away from everyone else, albeit for the briefest of moments.
Unburdened by heavy equipment and with no need to be confined to lift systems, helicopters or prepared pistes, you are free to explore remoter and wilder terrain. To pull off the prepared track at will and weave your way through the forest, down through fresh, deep snow, the scattered tracks of birds and rabbits the only sign that life abounds even in such apparently barren winter landscapes.
To access such landscapes in the winter, is to enter a secret world.
Alpine skiing may provide more thrills and spills, but for me, the real excitment of winter lies in this discovery of inaccessible places. Places that are only open to the cross country enthusiast.
As for Helena, my baby daughter, well she sat warm and snug in her sled singing her little songs, and taking in the sights, but she saved the whooping and giggling for the speedy descents.
I imagine in a few years time, she will no doubt dismiss my enthusiasm for quiet cross country treks. It would appear she is, already, a downhill kinda gal…..