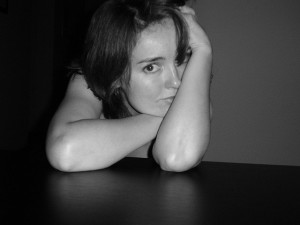 The Sunday Times recently ran an article concerning the phenomenon of female self-portraiture on Flickr.
As a female user of the website, I was interested to read of the controversy that has arisen with regards to women voluntarily posting revealing portraits of themselves on the site.
The debate centres largely on the age old issue of self expression and artistry versus expolitation and sexism.
To some observers, the nude or semi-nude photographs posted to the site, do little more than reinforce stereotypes of women as objects to be desired and leered at, and the fact that the photos are self-portraits, voluntarily posted by the women themselves, is seen nevertheless to run counter to ideals of female empowerment.
It's interesting that this should be the case, for it has not been my experience of the site.
When I first started posting to Flickr, I was very self-conscious and careful as to what I posted.
My guarded approach however was not down to some sensitivity with regards to other people's sense of propriety, rather it stemmed from a degree of self-consciousness, awkwardness and uncertainty that I have had since I was a child.
Quite simply, I was too unsure of myself, too critical of my own self-image to feel comfortable about posting portraits of myself.
For a thirty something woman, this sense of unease, which kept me from expressing myself, was far from liberating or empowering. In fact, it was quite the opposite. It was frustrating and awkward.
Why was it, I wondered, that I felt so negative about myself and the way I looked, that I would shy away from my own image?
There are a thousand and one answers to that one of course – the usual arguments regarding social expectations of women, media portrayals of feminine perfection, a catholic unbringing – and while no-one is immune to the influence of their own cultural values, I think, deep down, the main reason was simply that I was afraid.
Afraid that, were I to post images of myself, nude or semi-nude, I would expose myself to ridicule, criticism, or even violence.
Regardless, I took the plunge and posted a few rather demure initial portraits.
I didn't tag my photos, nor did I post them to any groups, but nevertheless, a few comments from strangers started to arrive. All from men.
It didn't surprise me that this should be the case. I hadn't been expecting any women to comment.
As a woman I hadn't commented too frequently myself on other women's portraits on the site, despite having admired them.
I don't think I was merely being polite in refraining from commenting. I think it was more that, as a woman, it is very easy to be in awe of another woman's beauty. To admire it, observe it and be chastened by it. Jealous of it even.
It is as if acknowledging this beauty in another, is some sort of admission that you are slightly lacking. Constant critical comparisson is inevitable.
The men however were different. They seemed quite at ease in posting appreciative and encouraging comments. I received nothing sleazy or leery or sexist.
Simple good humoured appreciation seemed to be the norm.
Some could argue that this in itself proves the inherently sexist nature of the female nude – the fact that men feel so open and at ease in commenting upon the female form, as of right, whereas women are more restrained, feel less entitled to enter into such an appreciation perhaps for fear that they are being expoitative or voyeuristic.
But I really do believe that that is an over-simplification in that it implies that women are incapable of appreciating female beauty. That we feel awkward about it and threatened by it, and that it is this unease that makes us silent.
Similarly, the debate over female nudity on Flickr doesn't seem to be matched by a similar curiosity as to why men post their images on the site.
Is it really the case that the male form is less desirable? Less objectifiable?
Do women not gaze at men and feel aroused?
Still it is the case that we are exposed to images of women far more than we are to those of men. In general, it is the female form that allures and sells.
Appreciation of the male is far less ubiquitous.
So does this mean that men are less exploited when they appear naked? Are they less demeaned? Disempowered?
I don't think anyone could argue that that is the case.
Whatever the reasons however, I kept on posting portraits to Flickr, and found a new confidence and daring, that surprised me and made me feel excited and upbeat.
Gradually I exposed more of myself, and it was, for a while, as if with each shot, I was becoming more aware of myself, of how I looked, of the impact that would have on other people.
It felt surprising, shocking even.
As someone who shies away from attention, walking head down along the street, sitting in corners in bars, it was a very new experience to feel as though I was looking the world in the eye, all be it, via the telephone cable.
I received a few bizarre emails in this time – the odd lewd comment or suggestion to "go further" but nothing too obnoxious and certainly nothing that couldn't be ignored or laughed at.
For almost six months I left my online photo album as it was. Untouched, uncensored and open to all.
And then something changed.
Something within me.
Now that I had shown to myself that I was capable of doing something completely out of character, that empowering buzz began to dissipate.
The defiant sense of self expression and fun seemed to dwindle. I had accomplished what I set out to do. I had dared myself and had risen to the challenge and now I was done.
I still didn't censor myself however. I kept all the images online. After all, it seemed rather hypocritical to take them down.
If the point of the exercise was to prove something to myself, to do something challenging, to feel free to express myself despite any learned behaviour or social expectations, then such censure would be self-defeating.
The doubt I was beginning to feel however, was increased when I came across some images of myself on other websites.
My Flickr account is open, which means that anyone can download my photos and use them elsewhere.
I had deliberately chosen to manage my account this way because it appealed to my sense of creative solidarity. My images should be free for others to use. I didn't want to feel precious about them. The fact that they could be shared was an intrinsic part of their worth.
Still, it was disturbing to find myself out there, in the ether, exposed in places I was unaware of. Observed on forums that were less friendly and open than Flickr.
For that is also an aspect of the tale.
Flickr is a wide community, encompassing all walks of life. From baby photos to birthdays to holiday snaps to cats, dogs, cars and homes, it is all there.
And this makes it feel like a safe place.
It isn't Suicide Girls or some other site (where a similar furore over exploitation ocurred last year).
The whole point of Flickr is that it is an expression of life. It isn't some dark, sinister, avant-garde place.
So seeing my photos popping up in strange places, I decided to cull the most daring of my photos. Enough was enough.
Because at the end of the day, that was the good thing about Flickr. I controlled what images appeared and I decided which ones should be deleted or never see the light of day.
Granted, it was perhaps naive of me to allow free and open downloading of my photos, but that is simply a lesson learned.
All the remaining images I have on the site now are still downloadable and will always remain so. That after all is part and parcel of the creative commons ethos.
As for my little Flickr experience, well all I can say is that throughout it all I must admit that I never felt as exposed or as vulnerable as I would have expected. There was never a sense that I was being leered at or objectified or demeaned.
On the contrary, the whole experience was fun and liberating and a challenge, and I cannot say I regret it.
I wouldn't go so far as to say I feel stronger or more confident a result, but perhaps I am a little more at ease, a little less neurotic and self-critical.
And that, surely, can only be a good thing?
More Flickr Females:
Rebekka
Suzanna
Irregular Girl
Dr Joanne
And let's not forget the boys: