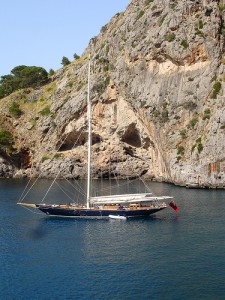 Early morning, and as the first rays of sun filter through the valley, the sound of a thousand little bells rises up into the air accompanied by the bleating of sheep.
Dawn chorus in the mountains.
A cool breeze catches the pungent aroma of rosemary and lavender and wafts it enticingly into the room, urging me to get up and start the day, but I stay put a while and listen to the rustling of the olive trees down in the groves, barely perceptible above the low insect hum.
In the quiet idyll of the mountains, these are the only sounds that greet me. Here, the days begin gently, peacefully, slowly.
No doubt peace and solitude are not the first things you think of when you think of Mallorca.
In the past few decades the Balearic island has become somewhat synonymous with cheap and cheerfull, all-inclusive package holidays. Think of Mallorca and you are more likely to conjure up visions of high rise hotel complexes, crowded beaches, cheap booze, cheap food, all-night cafes, and hoardes of pale-skinned tourists frying in the sun and determined to have a rowdy old time of it.
This Mallorca still exists of course, but if this is all you see of the island, then, while you may be getting your share of raucous fun, you sure are missing out on the true beauty of the place.
So it was that we fled the heaving beaches of the busy resorts and headed to Es Barracar in the Serra Tramuntura mountain range.
Located a mere 40km from the bustling little coastal towns of Port Soller and Port Pollenca, the Tramuntura area is nevertheless very isolated, due perhaps to the fact that it is only accessible via a vertiginous road and a succession of seemingly endless hairpin bends.
Driving here is certainly not for the faint hearted. That said however, the remoteness of the location isn't as isolating as it may seem.
The busy market town of Inca is a short (if precarious) 15 minute drive downhill, which means you can stay well stocked up with local fish, poultry, sausage, fruit, wine and bread.
There is also a good choice of local restaurants in Inca serving up traditional Mallorcan fare.
Try the "Cellar Can Amer". Located in a vast old wine cellar, with cavernous ceilings and enormous wine vats, it serves good, hearty, rustic food, which means it is heavy on meat and fish but not so great if you're a vegetarian. Their speciality is suckling pig washed down with a heady local red wine from Santa Maria – heavy going in the summer, but it seemed to be appreciated by the clientelle.
Every Thursday Inca hosts a local market, with stalls selling a confusing range of items.
The stalls seem to be laid out according to the items on sale. Walk down one street and you're confronted with the usual range of tacky tourist bric-a-brac and stall holders loudly vieing for your attention and your money.
Turn a corner however and you're into the food stalls selling everything from sardines to live chickens to pumpkins to cashew nuts to guinea pigs to plump sweet cherries to – well, you name it. It's a startling and colourful array of delicacies that leaves you salivating as you head home loaded down with bags full of goodies.
Fantastic!
If contemplation is more what you're after however, then head 6km down the other side of the mountain from Es Barracar to the monastery at Lluc, one of the holiest sites on the island and home to the black Madonna, the "Moreneta".
Legend has it that the statue, which was discovered in 1240 by a local shepherd boy in a grotto, brings good luck and prosperity to all that come to worship her, a myth which ensures a continual stream of pilgrims head to the monastery each year.
The tiny chapel that houses the Moreneta shrine certainly is a very silent and solemn place, filled with the kind of atmosphere that commands reverence even among cynics such as myself.
I guess it's the sheer tranquility of such places that touches you. Monastic silence is so unfamiliar to most people these days that the intensity of it almost feels like religious experience in its own right.
But even if you're not of a spiritual persuasion the monastery is still worth a visit. A truly peaceful place, tucked in among the seclusion of the mountains, its shaded botanic gardens and courtyards offer simple, quiet sanctuary. If holy shrines aren't your thing then try and coordinate your visit so that you can take in a performance by "Els Blauets" the schoolboy choir that has been singing to a very different Balearic beat, in Lluc since 1531.
As for the nearby coastal towns, well from Lluc it's around 20km over the mountains and down to Port Pollenca or 30km the other way to Port Soller.
Port Pollenca isn't really much to write home about, I must admit. A boulevard of cafes, a man-made beach, a small harbour and row upon row of holiday homes and that's about it.
Far better to head to Port Soller with it's neat little harbour, quaint trams, clear water and mountain views. It's still quite touristy (you'll hear as much German and English spoken as you will Spanish) but watching the yachts down in the harbour with a cool glass of white wine is a pleasant enough way to while away an afternoon.
There are no truly hidden beaches in Mallorca I guess, but the small cove of Sa Calobra is probably as quiet as you're going to get on the west coast of the island.
The easiest route is to take the ferry from Port Soller, but if you're a thrill seeker, take the road. The super sharp hairpin bends and sheer cliff drops are nauseating in the extreme – which makes it an absolute must of course.
All the way down my mum sat in the back of the car and winced with every turn. I tried to engage her in conversation as to just what an engineering marvel it was, but to no avail. I tried pointing out the dramatic scenery to her – the magnificent Puig Major with it's military observatory, the strange rock formations, the brave little mountain goats scuttling about among the shrubs, but she failed to see the wonder of it all as she gripped on to her seat for dear life and prayed desperately for the journey to end.
Still, once down there you are treated to a picture postcard scene of turquoise water, clifftops and small, quiet coves and seaview cafes that will serve you a restorative brandy or two to calm the nerves!
In summer, the river bed dries up making it possible to walk into the blue gorge and head all the way back to Lluc should you feel in the mood for some exertion.
In fact, for the keen walkers, the Camina Par Mallorca takes in much of the Tramuntura. From our house it was only a few hundred meters to access the GR 222 walking paths and tempting as this was it was nevertheless the thrill of those winding mountain roads that proved more alluring.
Driving here is fun, but really the only way to truly appreciate the speed of the roads is to take to a bike and freewheel down those crazy hairpin bends.
Of course this means you have to inch your way back up them again, which is no mean feat, but it's so exhilirating that the exhaustion fails to register (well, almost).
We managed to whizz around the mountains and take in Pollenca and Soller as well as some of the smaller out of the way villages such as Orient, Bunyola, Campanet – all good pitstops for lunch and for replenishing water bottles.
After a boccadillo and a few glasses of coke you almost feel ready to tackle those mountains again, although I must admit that on more than one occassion, as we struggled onwards past vineyards and bodegas, I did wonder just what it was I was doing.
Wasn't this supposed to be a holiday? If so then why am I killing myself trying to fly up hills whose gradients almost defy gravity when I could be sitting in the garden, taking in the mountain views, a glass of wine in one hand and a good book in the other?
Why indeed…I think next time I may decide to take in the scenery by horse, it's far less exhausting.
For I fully intend to come back now that I have had a small taste of Mallorca.
For years I have always avoided this island, convinced as I was, that all it had to offer was the gaudy brashness and business of the main resorts.
More fool me is all I can say.