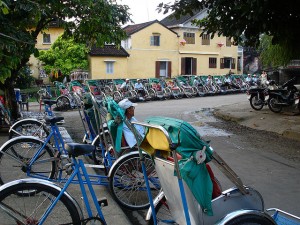 The arrival of the train from Saigon seems to have brought the small white station in Hoi An to life.
In the bright glare of the morning sunshine, everything is a messy blur of chatter and business as people disembark in one confused mass of bags, boxes and bodies.
Everyone seems to know where they are going, save for us and the only thing to do is allow ourselves to be carried along in the crowd through the station hall and out into the sunny street.
We've barely had time to take in our surroundings when a taxi driver arrives and, without asking, promptly loads our bags into his car.
What the hell. May as well just go with the flow.
We give him the name of the hotel and drive off.
It's only after a few minutes that I realise that the man that has joined us in the front of the cab, isn't the driver's buddy, but a local tour guide, who has hopped in for the ride and is intent on touting us for business.
As we drive along he produces a small pile of notebooks which contain testaments from the tourists he has taken around Hoi An and the vicinity.
"Read! Read! I am the best guide in Hoi An!"
He catches my raised eyebrow and tiny smirk in the rear view mirror and turns to face me
"No, really! Read. They all say it…"
I probe the notebooks for a while, and true enough the testaments and photographs seem genuinely positive.
While I'm reading, the guide is regaling us with extra titbits of information with regards to his credentials, but I only catch snippets of what he's saying.
"Two day trips ….swim in the waterfalls ….My Son ruins …. palace in Hue…marble mountains"
My brain seems set only to pick out these tourist delights. For the rest I may as well be deaf.
I'm also pretty nosey by nature, and find reading other people's holiday memories intriguing for some reason. It's not as if the diary entries are that fascinating in themselves (just the usual banal platitudes n fact) but the voyeur in me can't help but ponder those smiling faces, those enthusiastic words and wonder just what these folks are like when they're back home…
In any case it makes the taxi ride whizz along. By the time the hotel looms into view rates have been agreed and a pick up time arranged for the next morning but for the life of me I can't quite think how or even when.
Which can mean only one thing. I need coffee and a shower before the rest of the day sneaks up on me in a similar fashion.
The hotel itself is so unexpectedly luxurious that I gasp in awe. In the reception room the walls are decorated with photos of none other than Michael Caine, who apparently stayed here while filming "The Quiet American".
As we walk through the immaculate gardens, past carp pools and pungent trees, I can imagine him here for an instant, this great Hollywood star, strolling along this very path, cocktail in hand.
It makes me feel giddy, which is unexpected. Clearly the aura of fame has a hold on us all that we are sometimes hard pushed to acknowledge.
Showered and caffeinated Hoi An beckons and as we saunter into town following the river, all thoughts of Hollywood are banished amidst the pleasure of real experience.
In the 17th to 19th centuries Hoi An was a major Asian port and walking along the river front it is easy to imagine the trade that must have taken place here.
Most of the original architecture survived the Vietnam War and the old buildings, with their tiled roofs and wooden fronts are now protected as a world heritage site.
The most famous (and in my opinion the most beautiful) structure in the town, is the old Japanese covered bridge.
Constructed in the 1590s it originally linked the Japanese side of town with the Chinese quarter, its roof serving as a convenient shelter from sun and rain.
The simple and elegant construction is in sharp contrast to the more elaborate Vietnamese and Chinese styles that abound elsewhere in town. But don't be fooled, for this simplicity hides an elaborate myth.
According to this myth, there was an enormous monster called Cu. This monster was so huge that its head was in India, its tail in Japan and its body in Vietnam. Any movement of this behemoth would unleash some terrible natural disaster.
However, when the bridge was built, it was founded on the weakest point of the beast and as a result killed it.
The townspeople of Hoi An, therefore decided to erect a temple (Chua Cau) in the middle of the bridge to honour of this great beast.
Unfortunately, this offering did not save the town from a terrible flood in 1964, which saw water levels rise as high as the rooftops, but still, as myths go, it's quite a tale…
The tourist appeal of the bridge aside, there is also one more modern day aspect to the bridge which appealed to me enormously.
It seems to lure just about very free rickshaw driver in town.
This may not sound so exciting on the face of it, but in the late afternoon, when business is sluggish, the drivers take a well earned break, lining up in a long meandering row of vivid turquoise – a sight which, for my mind, is almost as appealing as the bridge itself.
As with all tourists destinations, however, Hoi An, recognises the value of the tourist dollar, and these days, the river fronts and alleyways are lined with shops selling the usual cheap tat and hundreds upon hundreds of tailor's shops.
For Hoi An is undoubtedly the place to be in Vietnam if you're looking for cheap, "made to measure" clothes.
There are literally hundreds of these outlets dotted about town and it's impossible to know which one to choose.
One thing I will say however, is chose something simple – a blouse or basic skirt for girls, basic trousers, t-shirts or shirts, for the guys.
These shops make fast, simple everyday wear clothes and that is about it. Anything more complicated and refined than that is asking too much.
I know, because I decided to go for an intricate little silk number that didn't quite match my expectations (which were ridiculously high given that these guys manufacture an unimaginable amount of garments at an even more unimaginable, and impossible pace). Still, for good, cheap, simple clothes this is most definitely the place to be.
Aside from the shopping, the joy of Hoi An is simply to be there.
The buildings are deteriorating gracefully and beautifully, ochre paintwork flakes off on one wall, a window frame sits slightly off kilter on another, the damp smell of the river rises up in the air now and then, the dogs scuttle around the harbour sniffing for dead fish, but it all makes some sort of wonderful sense. It is truly a beautiful place.