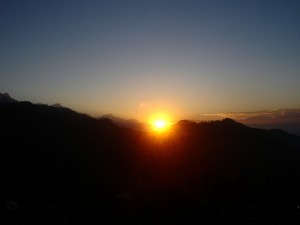 Four a.m. and I hear a faint tap at my door. It's Laxman.
"Time to get up."
I grunt and roll over then catch sight of the night sky through the window. It's dark and clear and the stars are shimmering.
It rouses me from my stupor almost immediately and I am up and alert in an instant (which for me, without the aid of coffee, is an extremely rare accomplishment!)
This morning though, coffee and breakfast will have to wait because first there's a 500m ascent to deal with in the dark, as we race up the hill to try and beat the sun.
Outside it is very quiet an still and Tania and I turn on our flashlights and follow Laxman steadily out of town and to the path to Poon Hill.
And it's mesmerising. There's a whole dark swathe of sky above us and every star seems to burn and glisten like a jewel set in deep blue velvet.
We stop and simply take it in, breathless and overawed.
In cities the sky is always bathed in a flood of neon orange, obliterating the real beauty of the stars, their vibrancy and movement lost amid the glare. So to stand there and look at those tiny specks of light is truly wonderful. It's a cliche to say that underneath those stars you feel small and insignificant but it doesn't matter. Looking up, the world just seems both fleeting and timeless and utterly beautiful.
We press on into the darkness, careful with out footing, stopping now and then to check where the path is, flashing our lights to try and make out the way.
Up ahead, I catch sight of a whole train of lights moving steadily upwards, little beacons lighting the way.
I am concentrating so hard on the path ahead that Laxman has to prod me and tell me to stop and look behind me.
I do and notice the faint outline of a mountain range barely visible against a slightly greying sky. It seems barely believable. Yesterday the town was smothered in a thick blanket of cloud and we were cocooned in grey and damp. The possibility of anything beyond that smog seemed fantastical and yet there it is, a shadow on the horizon, my first dark glimpse of the Annapurnas!
But there is no time to waste, we must push on up the hill if we are to beat the sun. So off we go and a gentle trot, glimpsing over our shoulders now and then to check we are still ahead in the race.
The sun is coming up fast.
At the top there is a hustle and bustle of people and a tea stand is already doing good business as the cold and bleary eyed tourists gulp down hot and comfortable cups of coffee.
I'm startled and both Tania and I do a double take.
"Where did all these people come from?" we wonder.
After all, yesterday Ghorapani was deserted and only a handful of people were around (or so it seemed).
Clearly they were all tucked away in their guesthouses sitting out the rain and hiding from us.
Now though we are all here, and the top of Poon Hill feels like Disneyland.
I am about to feel a bit peeved about this when I turn around and catch the sky.
A pale mauve interspersed with flicks of orange and yellow is slowly easing its way across the sky and the mountains are coming out of the shadows, their dark hulking forms now starting to take on more depth and shape. I see their craggy forms and snow capped peaks and feel a tingle in my stomach.
Then the first ray of light appears. A sharp deep orange glow glances off the surface of granite and then quickly beams through across the valley.
The sun!
And for the next twenty minutes we stand watching the light brush the tops of the mountains, turning them golden and pink, the warmth creating a wispy morning mist down in the valleys that snakes its way around aimlessly. The mountains are waking up.
I watch it all and the gentle hum of the people around me, the throb and chatter, fades away and ceases to exist. All there is, is the sunrise and the warmth.
I doubt there is a better way to start a day …