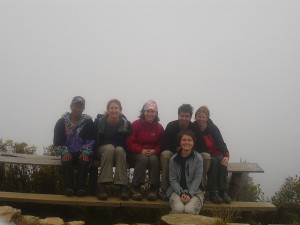 The reason people stop in Ghorapani (aside from the fact that it is a vibrant and picturesque little hill town in its own right) is that it is from here that you can make the 500m ascent of Poon Hill and take in the breathtaking sight of the Annapurna Range.
From this vantage point you can see them all: Dhaulagiri 1 (8167m), Tukuche, Niligri (6940m), Annapurna South, Annapurna 1 (8091m), Hiunchuli (6441m) and Tarke Kang (7193m).
A more amazing vista in the world is going to be very hard to find.
If it stops raining that is.
The rain arrived in Ulleri forcing us to make our long ascent through the rhododendron forest in a haze of cold drizzle. Even the cicadas, whose power drill buzz had accompanied us along the way the past few days, stopped singing, and decided to sit it out in silence somewhere in the undergrowth. So the walk to Ghorapani was a damp and quiet one.
Once we are safely ensconced in the guesthouse though, there is a real treat – a wood burning stove in the centre of the room, with a clothes line around it for drying our sodden clothes – bliss. So after a warm shower, some ginger tea and chocolate cake (even better than apple pie!) we are all resembling our good natured selves again.
The plan is, next morning, to rise at 4 a.m. and climb Poon Hill so as to catch the sunrise as it filters through the Annapurna. That's right, 4 a.m. ……. gee! I ponder this then decide it is better not to.
For now though, the evening sets in and the rain pours down, battering the tin roof but we are snug and happy.
Admittedly, the source of our contentment comes largely from the Kukri rum. Okay, so if someone every mentioned to you that the Nepalis make a deliciously smooth, dark rum you could be forgiven for thinking they were kidding you.
However you'd be wrong. This stuff packs a kick, but goes down like silk and can definitely give its Caribbean counterparts a run for their money. It is also amazingly cheap, so it is possible to afford copious amounts of the stuff and drink away like a pirate – which we do …..
So it is that we spend the evening tucked up with our rum and our playing cards. In fact the card games have attracted a crowd of onlookers, among them the young Maoist rebels we encountered earlier. They had come into the guesthouse earlier that evening to check that they hadn't missed any errant tourists and to gather all their payments but have stayed on and are now joining in the card game.
After a few rounds of gin rummy the consensus is that we should now play a Nepali game. Excellent. A new card game is always welcome.
Turns out though that the game they have in mind is none other than, what I call, "Stinky Queen", known here as Chase the Jack.
Basically you take 3 Jacks out the pack then deal out the cards to all the players. You then start to pick cards from one another to make a pair and eventually one person is left holding the Jack and is the loser, or in my game they become the "Stinky Queen".
A classic!
And so it is that I end up face to face with an old villager whose grin and excitement are contagious.
We pass that damn Jack between us for a good five minutes – neither of us able to shift the mischievous knave. Damn!
And with each transfer of the card a huge grin creeps across the old man's face, and an uproarious cheer goes up from his compadres who now encircle us and scrutinise our every move. Each flicker of an eyelid, every stray gaze can mean defeat. I shuffle my cards under the table so that even I don't know which one is the Jack, feeling like a small child, the giggling excitement is so heady.
And then he picks it! Yes! I have my pair and have won!
Cheers and pats all round, a celebratory rum or two, then it's off to bed. It's an early start if we are to make it up Poon Hill tomorrow morning.
All night though the rain pours down relentlessly and I doze off to the sound of the torturing pitter-patter on the rooftop. In my sleep I feel a shudder and the room sways. it feels as though we have hit a wave, and in my sleepy disorientation I fail to comprehend what has just happened.
An earthquake/tremor has reverberated through the village. A few days later we will here of the terrible destruction in Pakistan, but for now, it feels as though we are asleep on a ship, hitting the waves and swaying through the night.
At some point I hear the Swiss mountaineers get up and head out into the rain to head to Poon Hill. They had come down into town after a month of trying (unsuccessfully) to tackle Dhaulagiri. Poon Hill I guess is the consolation prize. They can climb up there and gaze out over their mountain as it taunts them…
Our sense of adventure is slightly less hardy however and we have already agreed with Laxman that if the rain continued then he wouldn't wake us, as there would be no point in heading up. I listen to the Swiss walk out into the rain and wait for Laxman's knock, which doesn't come, so I turn over again to sleep.
When I eventually awaken, the rain is still coming down and the Swiss are back – dejected and disappointed. Dhaulagiri remains elusive to them, even from the vantage point of Poon Hill. Sometimes that's just the way it goes, I guess …
Over breakfast we decide that we will sit it out for one more day in Ghorapani, because the opportunity to view the Annapurna Range is just too good to miss.
So it is that we spend the day holed up in our guesthouse venturing out only as far as the bookstore to buy some reading material in the hope that this will make the day pass more quickly.
Eventually though, no amount of reading or blackjack can ever hold back the cabin fever and we decide, in a gap in the rain, to head up Poon Hill anyway. I mean, who knows, we may get lucky and the cloud may clear affording us the promised view.
So, enthusiastically and perhaps over optimistically, we head up on our 500m climb through the clouds and the mist. Hoping with each step that the breeze will pick up and blow the cloud away.
The breeze does in fact pick up, but only to blow in yet more cloud. At the top after an hour's exertion, we stand atop Poon Hill and gaze out over a sea of grey, shivering in the cold.
Bugger!
Laxman jokingly points out where all the peaks are and teases us gently as we sit on the viewing platform trying to imagine the sight.
Until the cold gets the better of us and the thought of dinner, rum and cards lures us back down the mountain again.
Oh well, there's always tomorrow ….