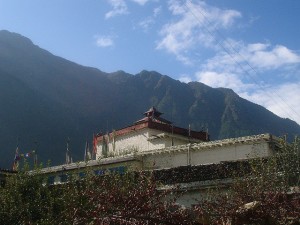 Forest.
The first hour or so of the trip are on a wide undulating road through forest that also seems to be the main thoroughfare for pilgrims returning from their pilgrimage to Muktinath.
I walk rather blindly, calls of " Yannis!" still ringing in my head, paying little heed to my surroundings.
Pilgrims, forest, mules, road. That is all there is.
In fact it is a pretty monotonous stretch of trail as we pull out of Ghasa and head away from the lushness of the gorge and onwards towards the drier, more arid plains of Mustang.
In Ghumaune we stop for a cup of tea, but on perusing the menu and recalling the dinner of the previous evening we decide on a bit of " brunch" .
We've only been going a couple of hours but what the hey! Some more Tibetan bread will hit the spot quite nicely.
In fact, the food is so good we decide to stock up on some sandwiches for the trail which we can eat later without having to stop again.
What planning! What foresight!
In the sun, in the garden it's actually quite exotic and it's hard to get up and go again once brunch is done. But go we must.
Through Lete (where the smells from an apple brandy distillery are almost unbearable) and upwards ever upwards, slowly and gently.
Sometimes this just happens. A trail becomes invisible. All there is, is a series of footsteps and the sense that you need to go on.
Jeanna notices it too.
" We always seem to be going, but never arriving"
True. True. There's always another day's walking ahead. Onwards ever onwards.
I'm not sure when or where exactly the scenery started to change, but at some point, my brain kicks in and I notice that the landscape is changing subtly. Its starting to turn more turning beige as the greenery is subsides and gives way to a rocky, gravely and more forbidding landscape. A taste of what is to come later as we leave Tukuche and head to Kagbeni.
We' re in the small town of Kalopani. Off in the distance, Dhaulagiri looms down on us.
We stop a while to eat our provisions and I take in the scene. The little houses, freshly whitewashed for Dessain, the large, orange pumpkins growing on the roofs, the only source of colour it seems, the millet fields all around us. The silence.
It truly is one of the quietest villages I have ever been in.
Laxman explains that the architecture is different here. The houses are built around little internal courtyards, which serve as the centre of family life. All the activity, it seems, is taking place in these little family centres while out here on the street, peace and quiet reigns.
Well, for a while at least. Every small town has curious kids and Kalopani is no exception. So after ten minutes sitting on our bench a stream of kids come to watch us eat and to giggle shyly at us as we share some chocolate with them.
When we leave they watch us go, in silence, to shy to call out their goodbyes.
A wide stone trail carries us onwards ever onwards through the village of Larjung. At this point it's possible to take a day trip up to the Dhaulagiri Icefall, provided you have camping equipment with you. If like us though, this seems a little daunting and sounds a little cold, then walk on through and head to Tukuche.
The trail takes you through the village of Khobang and it's worth stopping here for a while to wander through the narrow alleys and take in the Tibetan temple a first taste of the style of village layout that awaits us further up.
Out of Khobang we hit a trail following the dried up river, willow trees lining the banks. It is a desolate sight, the ashen grey of the river bed lending the scene a lunar quality.
Trucks are crashing through carrying gravel from the river off to the road builders who are busy laying a road which will eventually link Pokhara to Jomsom.
It's hard to know what to think of this.
On the one hand, the road will bring with it much needed supplies and a consequent improvement to people's lives. On the other hand it will also take with it the sense that the Jomsom area is still a largely inaccessible place. I watch the lorry drivers shuttle their loads and cannot decide if it is good or bad.
A pause on the other side of the river bed however, seems to offer me some answer. At first I think we have stopped alongside some small wooden fisherman's huts on the river, so I pay little attention to the activity around me. Then I realise that the river is dry so there is no fishing. I spot the kids and their mother sitting in a wooden shack and see that the small wooden huts around us are not temporary lodgings for fishermen out for the day, but the permanent homes for these families.
Their poverty, even by Nepali standards, is evident, and their isolation, here on this desolate river bank, can only serve to exacerbate their problems. Whatever the road may bring with it, it will, I suppose, supply some degree of opportunity, some alternative to breaking rocks and surviving at a subsistence level.
We head up the hill directly above their riverbed home, the sound of the trucks thundering below us as we scramble up the steep, loose shale before heading into the village of Tukuche.
Tukuche as it turns out is a fascinating little town renowned, in the region as a trading place. The colourful little Tukuche Guesthouse is extremely comfortable with a great roof terrace that offers stupendous views. It also does the best bowl of pumpkin soup I have ever tasted, so if you ever find yourself here, then head to the Tukuche Guesthouse and eat. It's delicious.
As well as being a regional trading post, we discover that Tukuche also has a fantastic distillery where that killer apple brandy is made.
We visited that evening and bought a few bottles of orange brandy. After all, how can you play cards without a steady supply of heady nectar eh?
Okay, so heady nectar is perhaps overstating things and I'd definitely suggest that a quarter of a bottle shared among six persons is more than enough. It's potent stuff, even if it does give you a shock of goosebumps as you down it.