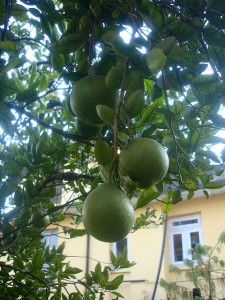 Twenty minutes into our arrival in Pokhara and we've already been approached by a guide and a porter.
"Where are we going? Do we need a porter? A guide? Where are we staying? When do we plan to head out?"
Questions, questions. The answer to all of them being a collective "We don't know."
We are too busy trying to find a local guesthouse with room for us all.
We were headed to the Tranquility Inn, which seems like a truly wonderful oasis of calm and luxury just off the main street in town. But there is no room at the inn for us today, so now we have to make new plans.
After the long drive in from Kathmandu, on hazardous and chaotic roads, such spontaneous decision making is proving a little beyond us, and we stand in the road, incapacitated with indecision for quite some time before venturing in to the nearest alternative hostel to try our luck there.
We're in luck! Before we know it the owner is proudly explaining to us the benefits of his establishment – the quiet, lush gardens, the clean rooms, the hot showers.
At some point I think I hear him extol a virtue I had not considered previously.
"And we have no Israelis here!"
I turn to Lucy.
"Did he say no Israelis?"
"I think so, yeah…"
"Nah, surely not …."
Suddenly intrigued we sidle up to him to listen more closely to his sales pitch and catch the end of his spiel …
"…they are so noisy and always ask for a lower price. I have no time for this"
"Who?" I ask
"Israelis."
Good grief!
"But surely you can't just put a sign up saying "No Israelis" or whatever. I mean that can't be allowed …."
"Oh no! No I don't have a sign. No that wouldn't help. No what I do is this. They come and see the room and then, liking it, because I have very nice rooms, this is a nice hotel no? Yes,? Well when they ask for the price of the room then I tell them fifteen dollars per person per night!"
At this point we all laugh uproariously, because the going rate in a similar hotel is about two US dollars a night.
"Fifteen dollars?!"
"Yes that is how they react too! And of course they refuse to pay this – it is far too expensive. So they leave and are very upset. But best of all they tell their friends: "Whatever you do, don't go to the xxxx Hotel. They are crazy! They charge fifteen US a night!" So we have a very quiet hotel. Really, it's very nice… very quiet"
Basil Fawlty couldn't have done it better. We take the rooms and indeed it really is very, very quiet …