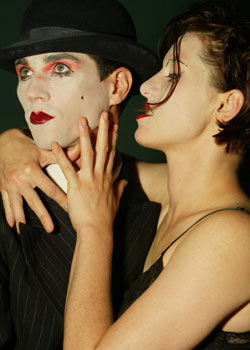 Now there is no way that I am ever going to do justice to last night's concert with mere words. No, The Dresden Dolls are most definitely something to be experienced first hand.
It is a genuine pleasure to stand in an intimate smoke filled hall and watch musicians perform. In an era when bland, vacant eyed popstars are the norm, The Dresden Dolls stand as proof positive that the good will out.
And what performers they are. This was a very physical show, a show where the story was as important as the song.
Brian Viglione ( think Little Alex from A Clockwork Orange transformed into drummer extrordinaire) has a range of facial expressions to accompany every one of the songs and his drumming is more, way more, than the simple addition of rythmn. These drums are part of the tale, they add the suspence, the menace, the craziness.
They are as key to the whole performance as Amanda Palmer's voice and piano pounding histrionics. How she manages to sustain such a clear and powerful voice after such blistering performances night afer night in such smoky dens is anyone's guess, but sustain it she does. And with gusto!
It's a growl of a voice at times then all at once a coquettish, girlish squeal or a deep resonant wail. It's a voice that brings to life the slightly manic, overly neurotic characters in the songs. A voice that oozes a schizophrenic mix of menace and joie de vie with every breath.
There may be only two people on this stage, but there are many more characters lurking in the background, who come out to play for a while to tease and tantalise the audience, before scurrying back into the shadows.
There were many highlights to this show. The mechanical rythmn of "Coin Operated Boy" resulted in some strange jerky movements from many members of the audience, and a rendition of PJ Harvey's "Rid Of Me" silenced the audience and made me shiver with pleasure.
But it was the sheer swaying boisterousness of "Port Of Amsterdam" which produced the biggest cheer and got us all stomping and cavorting, turning us into drunken sailors for a brief moment.
Yes, this was a physical experience, a real gut wrench of a gig. The perfect antidote to the trite and monochrome pop which is inundating us. So viva The Dresden Dolls!
If they are coming to a town near you, go see them. Go see for yourself just how good sheer performance can be.